The full transcript in this article has been republished from the Syrian Arab News Agency (SANA). (On occasions, in recent days, it has not always been possible to view SANA from Australia. – Ed) another full interview (behind paywall) (20/1/15), by of the American magazine Foreign Affairs, has been republished as President Assad's Full Text Interview on American Journal: Israel, Turkey Supports Terrorist Organizations in Syria (26/3/15) on Islamic Invitation Turkey.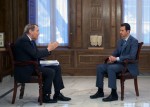 In this unedited 57 minute interview, much of the lying narrative which has been fed to the public in recent years as a pretext for the United States' proxy terrorist war and planned military aggression against Syria was put to Syrian President Bashar al-Assad by the CBS's Charlie Rose. Examples of this narrative include
How Will Syria's Assad Be Held Accountable For Crimes Against Humanity?
(28/3/15) by the supposedly liberal, progressive
Huffington Post
and
Thousands in Syria face death as…
View original post 9,738 more words